Living on the Edge: Confessions of a 30-something Creative (part 2)
If you haven't already, be sure to read: Living on the Edge: Confessions of a 30-something Creative. Then, return to read this post.
Living Rent-Free in Exchange for Being a House Helper
For two years, I had couch-surfed, living at friends houses, crashing on their sofas or the floor, in exchange for doing dishes, cleaning, or helping around the house. Why? I wanted to save money and in order to save money, I needed a way out of paying rent. Basically, I was a houseboy, or a concierge.
During this time, although I worked a number of side jobs, my main employer was Papa John's. I delivered pizzas at the downtown West Palm Beach, Florida, store. But in 2003, tired of working long hours for small tips, driving a car on the verge of exploding, and somewhat frightened and stressed by recent bad experiences on the job (being assaulted, being robbed, having rocks thrown at the car), I quit.
During those years, I had saved $12,000 dollars. Knowing that I needed more money, I withdrew all my mutual funds, which added $30,000 dollars to the pot. Combined, I had a total of $42,000 dollars.
I was hoping to use this money to buy a fixer-upper house in West Palm Beach, Florida. At this time, though, the real estate market was very hot– home prices were soaring. Even fixer-upper houses were selling for $200,000. So, I decided to look elsewhere.
After searching the internet for realtor websites in North Florida, I concluded that the houses, even in rural areas, were overpriced, at least out of my budget anyway. I needed a for sale by owner that was a fixer-upper, too.
How I got into Buying and Selling Tax Deed Sale Properties
So, here's what I did. I went to www.google.com and typed in "dixie county florida newspaper". My idea was that the small town newspapers that have a website, would list the for-sale-by-owner properties that would be overlooked by major search engines. It turns out they were.

The Dixie County, Florida newspaper was online, and I clicked on the classifieds link, then the real estate link.
I came across an ad for 9 acres with a 2/1 mobile home, and a spring in back, for $54,900. A few days later, I drove to Old Town, Florida, met the owner, and I purchased the 9 acre property. I put a $20,000 down payment on the land, with arrangements to pay $270 a month for five years (60 payments) and a balloon payment of $25,000. (A balloon payment is a final loan payment that is considerably higher than regular payments, in order to pay off a loan.)
After paying for the trailer, I had $22,000 dollars left.
I fixed up the trailer and lived in it. The cost of paint and tools amounted to a few thousand dollars, leaving me with $20,000.
As it was a small town, the only jobs seemed to be at Georgia-Pacific, a lumber company just outside of town, and Hardee's, the burger restaurant.
Looking through the local paper, I saw an ad for tax deed sales. I visited the county clerk's office and asked questions. Lots of questions.
I visited the property appraiser's office in the same building and asked questions.
I started attending sales and bidding on land, using the remaining $20,000 that I had left.
At this point, you might be saying: 'It was easy for you. You had $20,000 dollars.'
To begin with, it's not easy when you're starting out doing this and you have no experience. Money can only take you so far. Anyone can learn how to do this with a $2,000 dollar investment.
Attending my first tax deed sale in Dixie County, Florida, I was pretty nervous. I had a few thousand dollars cash in my pocket. In my hand, I clutched a binder notebook, with notes on the properties up for bid, what they were valued at, their location, if there were improvements (septic, well, trailer, fence, electric) on them or not, and more.
I didn't know anyone in the town except for the tax deed clerk and the secretaries in the office, as I had spent so much time there.
Some of the bidders talked to each other quietly, while eyeing me suspiciously. So, I decided to make a bold move, extended my hand, and introduced myself to them.
It worked.
Once we talked and shook hands, I found out what properties they wanted to bid on, and the interesting thing is that most bidders were only at the auction to bid on one specific property.
We made agreements not to bid on the properties others wanted. If I did want the same property that someone else wanted, I declined on bidding on it. I gave the locals priority in order to gain trust with them.
Flipping Tax Deed Sales Properties in Florida
At the Dixie County tax deed sale, I concentrated on bidding on the 50×100 lots in a rural subdivision across the street from my trailer. After purchasing them, often the same day, I would post ads on Craig's List or Ebay, offering to sell them for 5x as much, either a cash deal or with financing at 10%.
Expanding Opportunities
I decided to get others involved and charge them for buying-and-reselling the properties in their name. Their option was to pay a percentage once the sale was complete, or a flat monthly fee. Those buyers provided an additional income that paid me to research properties, which I was doing anyway.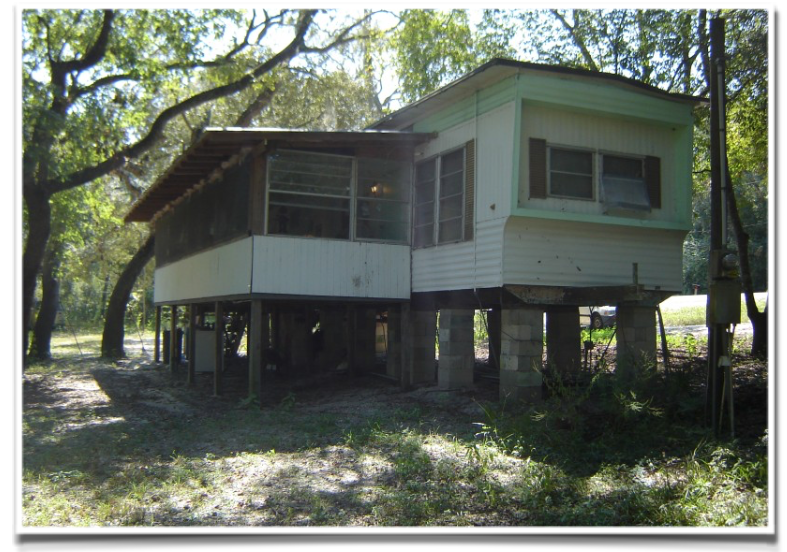 Beautiful Nature in Old Town, Florida
The single wide mobile home that I bought, and lived in, in Old Town, Florida. I spent most nights sleeping on the screened-in porch, listening to the sounds of wild animals and frogs and other creatures as they participated in their own symphony throughout the night. Nights during the Winter months got pretty cold, in the 30's.
The air was fresh from the abundance of trees (oxygen generators) all around. The water came from a deep underground stream, was full of healthy minerals, and, I often took cold showers (the water temperature was around 60-degrees or lower) as it was exhilarating. Living in Old Town, Florida proved to be a memorable experience.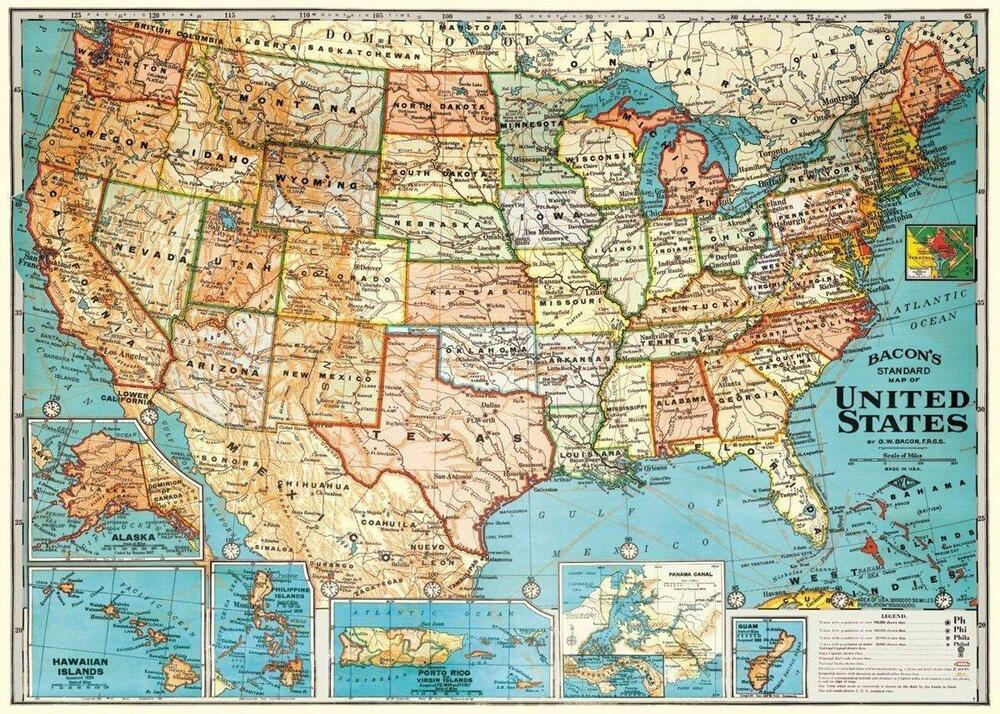 Research Tax Deed Sales in your State
You can attend tax deed sales, buy them at bargain prices, then resell them for a profit, either for a one-time payment or finance the sale with multiple payments. You can also get investors to partner with you for a 50/50 or 75/25 or however-you'd-like-to-arrange-it split.

Think about where you live.
You can do the same thing that I did.
You can find a nearby town or towns that are less popular.
Visit the tax assessor and the property appraiser, and research the upcoming "tax deed sales".
Also, you can find out-of-state owners, for properties in the town that you live in, or properties in nearby towns, and write to them (yes, send them a Self-Addressed Stamped Envelope or a postcard) and ask them if they're interested in selling their property and, on the same postcard or letter, make them an offer. Keep it simple.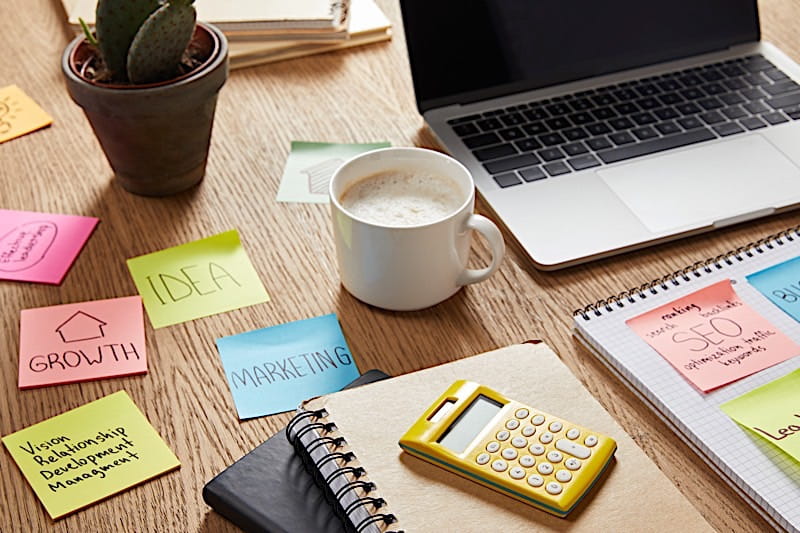 Here's the step by step method that you can use:
1) Visit your tax assessor or county clerk of court's online website.

To find that, just google your town/city name along with "tax assessor county clerk". Then call and e-mail them to make sure you have the correct office. Usually, if you do not, they can give you their number.
2) Call the clerk and ask questions. Take notes. Research.
3) Attend a tax deed sale. Get a feel for it.
4) Buy a property yourself and flip it (sell for profit) or finance it (sell on payments at high interest rate for long term profit).
5) Then do exactly what I did: Contact friends and relatives and offer to purchase and resell a property at the tax deed sale. Give them options for payment, either a flat fee of $150 – $300 a month, or a 25% percentage of whatever you sell it for. Show them how they can make a higher percentage than keeping it in the bank.

For a year, I lived in Old Town, attending tax deed sales. I also attended tax deed sales in other counties–Gilchrist, Levy, Madison, and Jefferson. Although I didn't make a huge profit, I was able to work for myself, and living in North Florida among friendly people and beautiful surroundings– springs, rivers, lots of trees–proved cathartic in many ways.
Eventually, I returned to West Palm Beach, and continued to attend sales in nearby counties.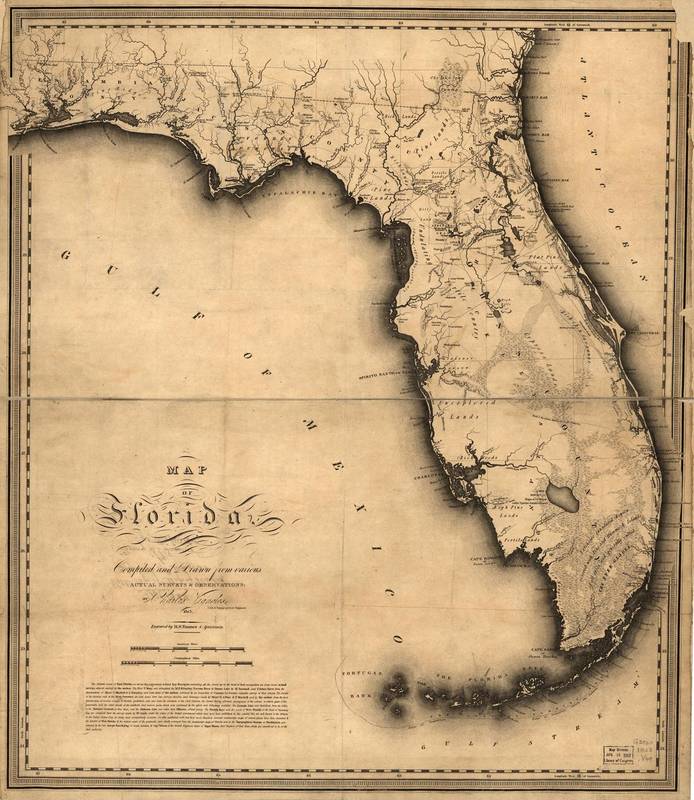 Mapping the Florida Counties
Looking over all the counties, I decided to make a numbered map of Florida, with numbers corresponding to website links for county clerks and property appraisers, along with notes on how to buy tax deed properties. Initially, I planned to use this map and notes for myself, but after getting so many questions from friends, strangers, and other investors, I decided to publish this as a book.
Also, seeing all the tax deed sales that were happening every month, I came to a dilemma. There were so many counties with so many different lots going up for auction. Often, these tax deed sales were on the same day–on the same date there will be two sales in two different counties. Which one should I attend?
If I couldn't possibly do this all myself, why should I keep it to myself?
Along the way, I've met lots of people who have been helpful and patient in answering my questions, from property appraisers to tax clerks to realtors to title company employees to tax deed bidders. Perhaps I could pass on what I've learned.
This is one of the reasons I wrote Make Big Profits Flipping Florida Land–so others could benefit from my experiences.
Read Make Big Profits Flipping Florida Land – I put together a special Ebook Bundle Offer, where you get 40 Real Estate Investing Ebooks (including "Make Big Profits Flipping Florida Land", "The Power of Financing", "Find Florida Land – Action Plan", "Free RE Forms Swipe Files"), valued at: $1,799 + 2 Free Entries for a Chance to Win a North Florida Camping Lot, valued at: $1,500, a total value of $3,299, for only $97 dollars. Find out more about this Special Offer at: http://www.thelanddepot.net/ebook-bundle/
Follow the steps on buying and selling tax deed lands in Florida.
If you put these ideas into practice, you will double your money and, in some cases, do better than that.
With an investment of $2,000 dollars, you can start buying land in Florida.
How can my experiences help you?
If you read this book and put it into practice, you can learn how to:
1) Attend and bid at tax deed sales, in Florida, or anywhere in the country, with confidence
2) Buy properties for as little as $500 dollars
3) Find property owners who are motivated to sell
4) Fill out the paperwork necessary for buying and selling properties
5) Utilize different websites to sell your land
6) Determine which tax deed sales to attend
Use this this book to learn how to do buy and sell tax deed properties in Florida. You can do it part-time or full- time. You can do it for fun or for profit or both. As there are 67 counties in Florida, with most of these having tax deed sales every month, the chance of finding land at low cost is in your favor.
Even if you don't want to buy property for yourself, perhaps you know someone who could use some financial help. Consider buying them a lot in Florida. Why not invest in your children's future by buying a lot in Florida?
What's the prime interest at the bank? Five percent? Land values are going up by 3-10x that much annually. Make your money work for you by investing it in something that yields greater interest. My ebook, Make Big Profits Flipping Florida Land, will show you how to do this.
+ + + + + + + + + + + + + + + + + + + + + + + +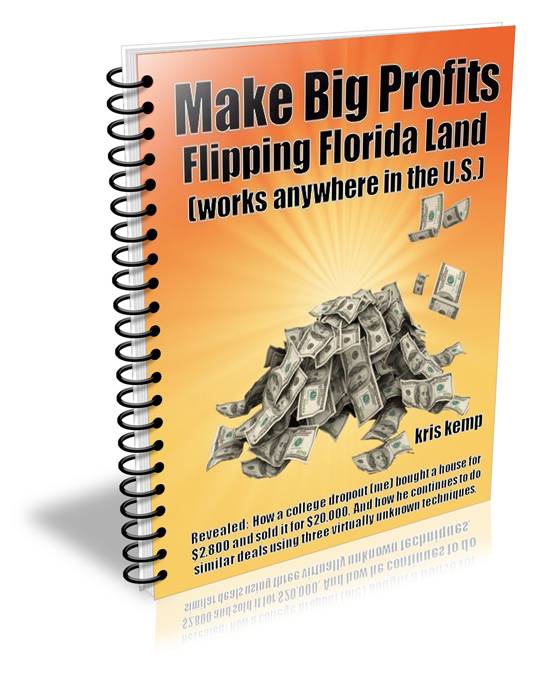 Curious to learn more about Real Estate investing for fun and profit? Discover the simple, powerful, effective strategies you can put into motion to find, buy, and flip properties—land, houses, mobile homes—for fun and profit in Florida or anywhere else in the U.S. I've written a few ebooks about this topic and I think you'll find them highly entertaining and informative, too. Click the links below to find out more:
Ebook Bundle for RE Investors + 2 Entries for your Chance to Win a Florida Camping Lot
http://www.thelanddepot.net/ebook-bundle/
Discover how to find, buy, and flip properties—land, houses, mobile homes—in Florida or anywhere else in the U.S. for fun and profit! If a college dropout (me) can do it, so can you!
www.MakeBigProfitsFlippingFloridaLand.com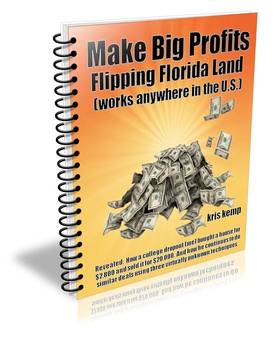 Revealed: How a college dropout bought a house for $2,000 and sold it for $20,000.

TheLandDepot.net
FlipFloridaLand.com
MakeBigProfitsFlippingFloridaLand.com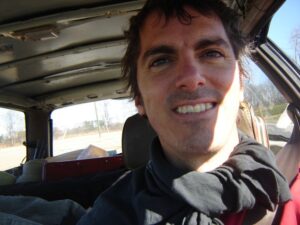 Kris Kemp is a writer, copywriter, musician, traveler, creative entrepreneur and the author of 20+ ebooks. He specializes in copywriting for sales pages, landing pages, squeeze pages, and email marketing campaigns. He has a variety of interests that share the common theme of freedom–health freedom, time freedom, financial freedom, location/travel freedom.
(Feel free to republish this article, as long as you leave the links in place.)
© Kris Kemp, 2020 & beyond